Upcoming Events
Considerations in Drafting Settlement Agreements in Employment Cases After POWR Act and NLRB Guidance
December 12, 2023, 12:00 AM - 1:00 PM
Alice Conway Powers & Meredith McDonald, O'Hagan Meyer
Emma Feeney, Hall Booth Smith
To Register for the Webinar, Click Here
You Can Become a Better Writer – Practical Tips to Help Get You There
January 25, 2024, 4:00 PM - 5:00 PM
Presented by:
Marilyn Chappell, Gordon Rees Scully Mansukhani, and Brendan Powers, Spies Powers & Robinson
To Learn More and to Register, Click Here
How to Become a Better Editor - Practical Tips to Supervise Better End Products
March 5, 2024, 4:00 PM - 5:00 PM
Presented by:
Marilyn Chappell, Gordon Rees Scully Mansukhani, and Brendan Powers, Spies Powers & Robinson
To Learn More and to Register, Click Here
CDLA Trial Academy March 7-9, 2024 - MVA
March 7, 2024, 7:00 AM
through March 9, 2024,
Nominate Lawyers to Participate in the Colorado Defense Lawyers Association Annual Trial Academy
Practicum organized by
James Johnson, Johnson Bakken Greely Smith, and Betsy Kleger, Bayer & Carey
Limited to 18 students
Applied for 29 hours+ 1 Ethics credit.
To Learn More and to Register, Click Here
2024 Annual Conference Santa Fe, New Mexico
August 1, 2024, 6:00 PM
through August 3, 2024,
For call-in bookings, our reservation's departing phone number is: (505) 836-6700. Your guests will use the group code: 2407CODLAW
Host Hotel - Eldorado Hotel & Spa
CDLA Membership Application and Renewal
Our members are among the most elite defense attorneys in Colorado. CDLA is a statewide organization that is nearly 750 members strong who benefit from access to resources and tools for legal professionals who strive to provide superior and balanced service to their clients.
CDLA Membership Application and Renewal
CDLA Officers
Hillary D. Patterson, President
Patterson Ripplinger
Robert B. Hinckley, Jr., Vice President
Buchalter Law Firm
Stephanie Montague, Treasurer
Hall & Evans
Rosa Derieux, Secretary
Jeremy R. Maline & Associates
What to do if your email service provider is blocking our listserv postings
It is an unfortunate consequence of everyone's email servers fighting against the barrage of unsolicited and/or malicious email that we experience in today's digital world. But if you find yourself suddenly not receiving posts, the blacklist that your firm or email service provider uses may prevent the delivery of messages from CDLA's listserv posts. Here is a link with information and potential solutions.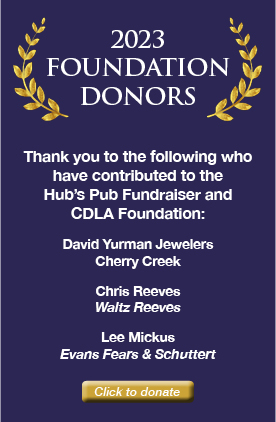 CDLA's Diversity Statement
The Colorado Defense Lawyers Association has the goal of promoting diversity within the legal community and assisting charitable organizations with a relation to the civil defense community. Charity, outreach and diversity must be viewed as a perpetual practice rather than reaching certain numerical markers. Charity, outreach and diversity efforts require sustained commitment, leadership, innovation and financial support. Through the Colorado Defense Lawyers Association Foundation ("Foundation"), we are committed to leveraging our collective efforts through partnerships and alliances in order to foster leadership, awareness and communications enabling an environment of good will and inclusiveness within our Association membership. We also are committed to using the Foundation to advance charitable interests or organizations with a relation to the civil defense community, as determined by the Foundation.
Bo Donegan
Executive Director
Colorado Defense Lawyers Association
643 Dexter Street
Denver, CO 80220
303-263-6466