Community Outreach
CDLA Foundation
The CDLA Foundation is the fundraising arm of the CDLA. The CDLA Foundation currently raises money via the Hub's Pub Raffle at the annual CDLA Convention and through direct donations from CDLA members and member firms. The Foundation's funds have been used to support community activities, including buying new bicycles and helmets which are donated to Children's Hospital for the annual "Snow Pile" event held every December (featured above). Members are always encouraged to volunteer their time for this wonderful event.
Hub's Pub
Hub's Pub was created in honor of Daniel M. Hubbard, the former incoming president of CDLA, who suffered a cardiac incident while riding his bicycle home from work and passed away unexpectedly. To honor Hub's memory and his passion for cycling, the CDLA Foundation created the Hub's Pub event/raffle to help fund the Foundation. Hub's Pub is a raffle held at the annual CDLA Convention. In the last 7 years the Hub's Pub event has raised over $75,000 and donated 248 bicycles to Children's Hospital and CASA.
Direct Member Donations
The CDLA Foundation also raises funds through direct donations from members and member firms. All funds donated are tax deductible. A minimum donation is $25 and all donations are appreciated. Donations can be made online by clicking the link below or by check made out to the CDLA Foundation and mailed to 643 Dexter Street, Denver, CO 80220.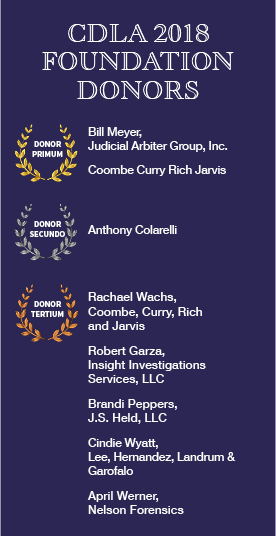 Upcoming Events
Colorado Defense Lawyers Association 2019 TRIAL ACADEMY
Working the Early Stages of the Bad Faith/Statutory Delay or Denial Case
Identification and Mitigation of Commonly Cited Civil and Structural Defects Sponsored by The Vertex Companies, Inc.
2019 Annual Conference - Beaver Creek CO Sunday - Tuesday