Upcoming Events
For reservations at the Limelight Hotel Snowmass, please call (844) 362.7119 Monday-Friday between 8am-5pm MST and reference CODLA 2020 Annual Conference - $175/night ++
July 26, 2020, 4:00 PM
through July 31, 2020
To book at the Westin Snowmass, Click Here
CDLA Officers
Tom Rice, President
Senter Goldfarb & Rice
Christopher Reeves, Vice President
Waltz / Reeves
Natalie Lien, Treasurer & 2019 Conference Chair
Stuart Jorgensen & Associates
Michele Choe, Secretary & 2020 Conference Chair
Wheeler Trigg O'Donnell
Bigfoot Sighted at 2019 Annual Conference
Click here to view the evidence.
CDLA Membership Application and Renewal
Our members are among the most elite defense attorneys in Colorado. CDLA is a statewide organization that is nearly 750 members strong who benefit from access to resources and tools for legal professionals who strive to provide superior and balanced service to their clients.
CDLA Membership Application and Renewal
Want to contact our legislative committee about any of the following?
Please direct those questions to:
Brandon P. Hull, Esq.
CDLA Legislative Director
Overturf McGath & Hull
625 E. 16th Avenue
303-860-2848 x 567 | Office
Denver, CO 80203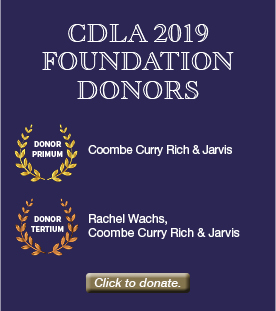 CDLA Renews Its Commitment to Diversity and Outreach
As the Director of Diversity and Outreach for the CDLA Board, I am pleased to announce that the Board has formally approved a renewed commitment to diversity and outreach within our organization, including the adoption of a new Diversity Mission Statement. The Board recognized that many of our members share a personal commitment to these values, and worked to identify ways in which CDLA could partner with its members to identify and support groups or organizations that fall within the scope of CDLA's stated community outreach focus.
With that in mind, the CDLA Board has approved a new process by which members can request CDLA's support of community outreach programs. View CDLA's updated Diversity Mission Statement and our new Outreach Statement, which details the purpose and scope of our Outreach focus and the support CDLA will provide to approved programs by clicking this link. Also attached is the Proposal Form to be used when a member wishes to request support from CDLA. The Form will also be available on CDLA's website and should be sent directly to me at bo@codla.org.
Bo Donegan
Executive Director
Colorado Defense Lawyers Association
643 Dexter Street
Denver, CO 80220
303-263-6466